Lifting Weights – How Can This Benefit Me?
Hey all, hope everyone is having a fantastic day! For my latest articles, allow me to switch the focus to exercise and fitness once again.
Have you ever opened a fitness magazine or brochure and noticed the flawlessly chiseled men and women inside? Sure there may have been some Photoshop work during production, but these guys have certainly worked their way to that body beforehand. One of the ways you can get there is by lifting weights; an exercise that has a surprising amount of health benefits for you!
The Muscles You Develop Can Fight Fat!
Studies have shown that building up muscle can lead to a loss of fat in the body. In addition, there is no need for any radical changes to your diet or any other exercise required! This is because the metabolism in your body is much improved, resulting in calories and fat being burnt off a lot quicker than usual. The Type II muscle fibres that you build when lifting weights will help you to reduce body fat, which mean there's certainly room in your diet for a few celebratory pizzas and burgers!
Don't wanna give these up? Lift some weights! (pic from redorbit.com)
Not only does it fight fat, it can also reduce the risk of diabetes! A study done by the National Institutes of Health found that men that lifted weights for 30 minutes, five times a week, were 34% less likely to develop diabetes. That is not a number to be ignored!
Your Bones Will Grow in Strength
That's right, weightlifting can help strengthen your bones. This is due to the muscles around your bones strengthening in response to weight training. The weights also help to increase the density of your bones, reducing the likelihood of you developing osteoporosis – a condition that results in your bones weakening over time and turning brittle.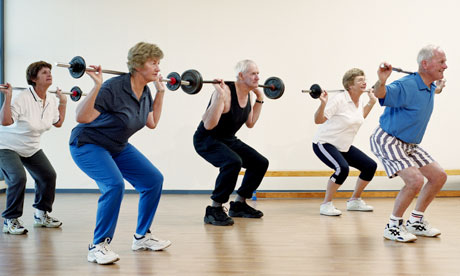 Lifting weights can help strengthen your bones (pic from theguardian.com)
Studies have supported this; research showed that elderly women who picked up weight training twice weekly for a whole year would increase their bone density by 1%. The other group that did not participate in any weight training found that their bone density had reduced between 1.8 – 2.5%. Perhaps you should try lifting weights now?
Helps to Prevent Back Pain
If you work in an office for most of the day, you will be very aware of back pains that occur once in a while. Weightlifting may help alleviate this because it improves the strength of your core – these are muscles that support your spine. A strong core will reduce the discomfort caused by back pain, and you'll find that you will experience this much less than before.
A stronger core will reduce back pain significantly (pic from express.co.uk)
Improves the Condition of your Heart
Weightlifting has been shown to improve heart conditions, backed up by research. It has been shown that just 45 minutes of lifting weights can help reduce blood pressure by up to 20%. This is similar to the effect of taking drugs to combat hypertension, not to mention much cheaper! The increased blood flow ensures your heart will be in very good condition; in fact, the exercise was shown to improve blood flow for up to 30 minutes following the session, and lasted for up to 24 hours in individuals that took up weightlifting several times a week.

Are you ready to dust off those dumbbells in the corner yet?