Saggy Skin – How To Prevent It?
Hi guys, the season of giving is upon us and I hope you are spending quality time with your loved ones. For today's topic, I will elaborate about saggy skin and what causes it to age at a faster rate. But take note that aging skin is not something you can prevent entirely, or else we'd all be following that same formula to look young forever!
As a question that many individuals have, saggy skin can be caused by a variety of factors. It is completely harmless and does not affect your body in any way, but some people may find it unsightly and seek out treatment for it. But before letting it set in, how about delaying its effects by discovering what causes it?
What Causes Saggy Skin?
There are several causes that may contribute to saggy skin, most of which are avoidable. The most common cause is overexposure to the sun. Ultraviolet (UV) rays are present in the sun and these rays have the ability to penetrate into your skin. Naturally, the longer you are exposed to the sun without protection, the more damage your skin takes from UV rays. The elastic fibres that hold your skin together and keeps it smooth will be damaged, which will result in your skin drooping over time.
Perhaps a more regimented skincare routine might have helped (pic from wikipedia.org)
Smoking and drinking are two other common causes of sagging skin, with smoking resulting in less blood flow to your face. Similarly, the toxic chemicals found in smoke can also cause damage to your skin, with alcohol also having a similar damaging effect. In addition, heavy drinkers tend to neglect other aspects of their diet which deprives the skin of the nutrients required to maintain and repair itself.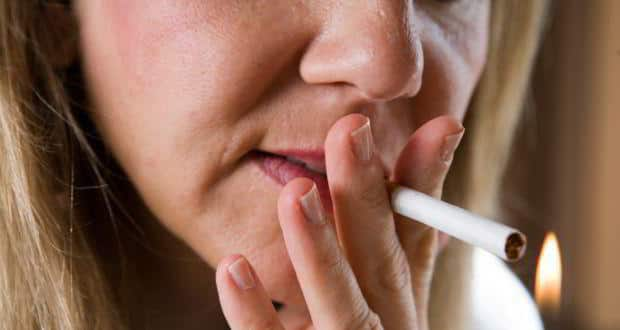 Not only does smoking dry out your skin, it also has a negative effect on your overall health (pic from thehealthsite.com)
Large weight loss in a short period of time can also contribute to saggy skin, with the fat that formerly filled large areas under the skin now gone. However, the skin remains, and with nothing to prop it up, it just sags under the pull of gravity.
Too much, too fast may leave you with a new set of problems (pic from angrytrainerfitness.com)
Finally, the natural aging process also contributes to saggy skin, with deteriorating levels of collagen and elastin responsible for your skin being less supple and firm. With no support, the effect of gravity will soon be apparent as skin begins to sag due to the pull of gravity. However, this is not something you can avoid, so you can only delay it through healthy living.
How Do I Prevent This?
Well, strictly speaking you can't. Not the natural aging process anyway. However you can delay the effects of aging as long as possible by cutting out bad habits that cause damage to your body.
Simply put, avoid smoking and drinking, or at the very least drink in moderation. The damage caused is not worth the short term enjoyment gained, and even if you're not particularly concerned about your skin, the rest of your body is also affected by it. Smoking dries out your skin, so cutting that out will increase the hydration levels and ensures it looks fresh and healthy.
Short-term gains may prove to be a loss in the long run (pic from legoexpress.tumblr.com)
For sun damage, do be sure to put on sunscreen before going out and wear a hat if need be. Try to avoid the sun for two hours before and after 12pm as this is when it is usually strongest. And of course, do not go sunbathing. That tan may look great, but the damage it causes to your skin is not easily reversed.
Till next time, Merry Christmas all!