Turkey – Providing You Nutrients Throughout the Holiday!
Hi everyone, I hope this week is full of joy and merriment. With Christmas coming up, it is the perfect time to get into the holiday and giving spirit, and catch up with your beloved friends and family.
Naturally, the food topic I plan on tackling today is the delightful turkey! A typical holiday dish, turkeys are not only delicious, but are actually beneficial to your health as it contains plenty of nutrients that your body needs. Without further ado, let's take a look at what these birds can give you.
Protein, Protein, Protein
Like all meats, turkey is no different and gives you a healthy dose of protein. There is approximately 32g of protein in a single serving of turkey meat, although this obviously varies depending on what you consider to be a single serving! This is roughly 65% of the daily recommendation for protein intake, making it a very good source. It also helps to maintain your muscle mass, or help to build it if you are on a muscle building exercise regime, as well as stabilising the insulin levels in your body.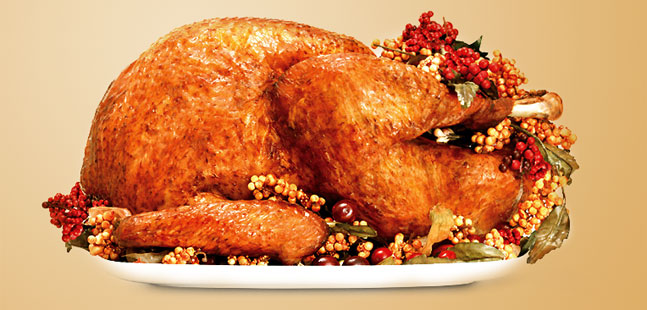 Nothing screams Christmas more than roast turkey! (pic from thewanderingpalate.com)
The edge that turkey meat has over others is that it contains less fat and calories than most meats, making it healthier overall. According to mensfitness.com, a single serving of turkey only has 161 calories and 4g of fat – considering that the recommended calorie intake for different age and gender groups range from 1,400 to 2,800, this is not a large amount at all!
Foods that are high in protein also helps you feel full for longer, reducing your cravings in between meals which naturally leads to lesser snacking, and thus less unwanted weight gains.
What About Other Nutrients?
Turkey is also a good source of Vitamin B, namely B3 and B6. B3 helps to reduce your cholesterol level and greatly reduces the risk of heart disease while B6 helps your metabolism rate by breaking down food into energy, while it also maintains the various body systems and helps them function normally.
Lean turkey meat is usually healthier than most other meats (pic from howcast.com)
Selenium is another little known nutrient that is found in turkey which has health benefits. It is an anti-oxidant which helps to boost your immune and thyroid systems as well as maintaining the health of your hair and eyes. In addition, it also helps your body to process any proteins consumed and since hair is mostly made up of protein, this leads to healthy hair growth.
If you do introduce turkey into your diet, do be sure to consume the lean meat and not processed meat. A turkey burger patty made from processed turkey meat can be just as unhealthy as a regular chicken or beef patty. Processed turkey meat can have just as much sodium, added salt and saturated fat as any other processed meats. There is also a high chance that it contains nitrites, which are known causes of cancer.
It may look healthy, but try to avoid processed turkey meats (pic from naturesownbread.com)
Despite its undeniable health benefits, consuming large amounts of lean turkey meat won't make your health problems go away. A healthy diet is a balanced diet, so be sure to watch what goes into your food all around, and not just focus on eating a few so called super foods to compensate for other 
categories missed out.

Until next time, stay healthy!